Technical Information
IMAGE RECOGNITION
Our IP camera based People Counter uses sophisticated image recognition software to differentiate individual people in a group and provide an accurate count of foot traffic.
BLUETOOTH
Our BTPC wireless People Counter has specifically been designed with Bluetooth technology so that it is simple to install and commission. It is not affected by interferences from radio frequencies like some other wireless technologies.
Data transmission is safe & reliable. It is easy to maintain the security of the data as no other devise can read the data without the appropriate program.
WHY INFRARED?
The advantages of using Passive Infra-red (PIR) sensor in some models of Watchman People Counters are that the Passive Infra-red sensor detects people by sensing the heat emitted from the human body, (heat is in the invisible infra-red part of the light spectrum).
When an individual comes within the range of the PIR sensor, it picks up the latest source of heat (infra-red) because there is a temperature difference between the background and the person. The PIR sensor has advantages over other types of sensors .
Our PIR sensors detect body heat and therefore they are more reliable than other sensors which emit an infra-red light beam that is reflected by a surface but can get obstructed by people or other objects. It is also difficult to align such a sensor and the reflector.
Technology like dual element sensor (which use two different types of sensors in one housing) or image processing and counting are expensive and complex solutions which require more sophisticated installation, monitoring and maintenance. We offer the IP camera based Image recognition People Counting solution as well.
Our capabilities include designing microprocessors with programmed code to achieve the solution. We also make printed circuit boards with SMD (surface mount device) technology and thick film multilayer printed hybrid ceramic technology. This technology provides both security and intellectual property protection as it makes it impossible to copy data and designs incorporated into the electronics without destruction of the target.
How Our Infrared Sensors Work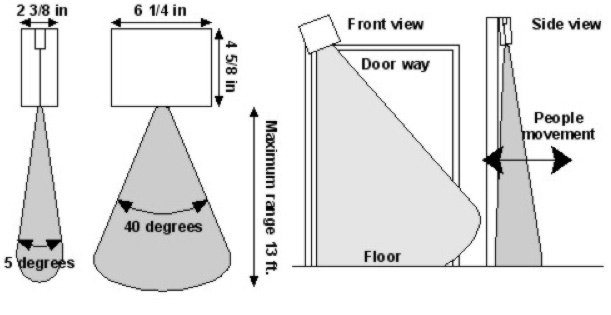 The above diagram shows how the People Counter (or sensor unit) should be installed.
The next set of images shows the importance of correct installation in order to ensure accuracy of counting and avoiding false readings.